Kayak with Sea Lions! Seals! Puffins! Otter! Porpoise! Whales! & Bears! Join Alaskan Wilderness Adventures for a day of adventure! Kodiak Alaska! Year Round Wildlife Photo Safaris are arranged around your schedule! Dawn till Dusk if you like! All double kayaks are extremely stable and have dual steering, so you can switch back and forth between steering from front OR back, allowing each person the luxury of playing with your camera, and relaxing, and enjoying the Wildlife that surrounds you! My trips are WILDLIFE PHOTOGRAPHY Trips! Camera dry bags attached to the deck in front of each passenger!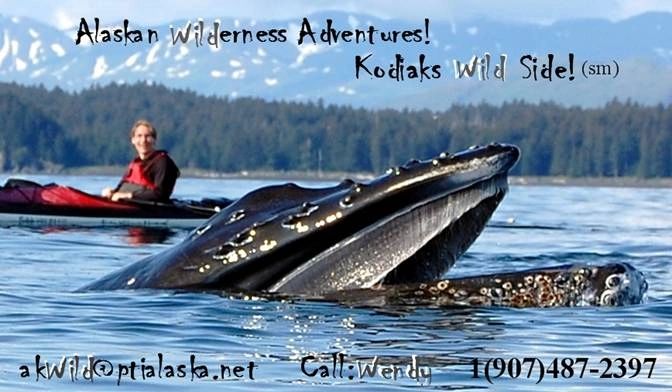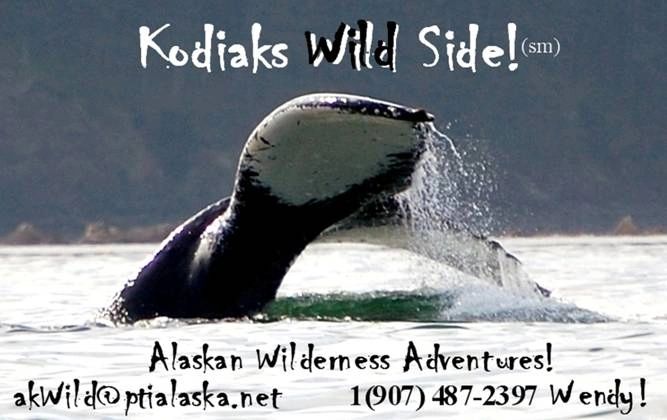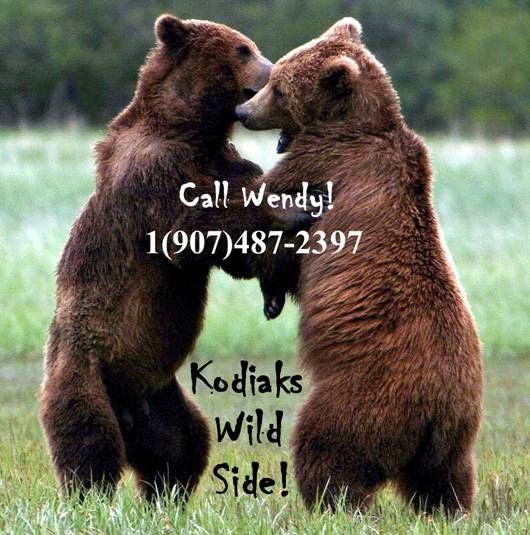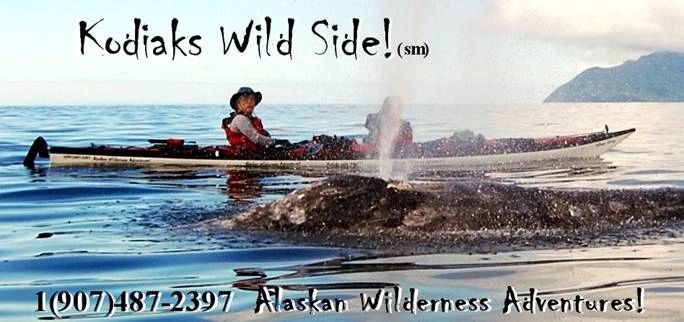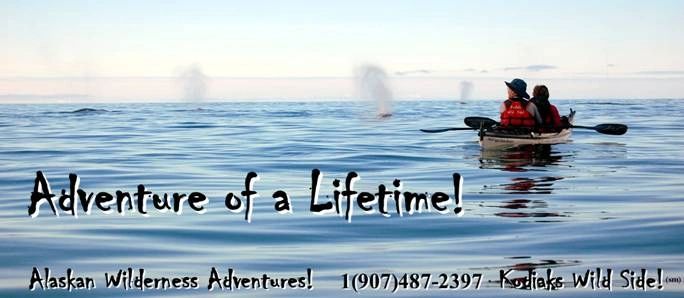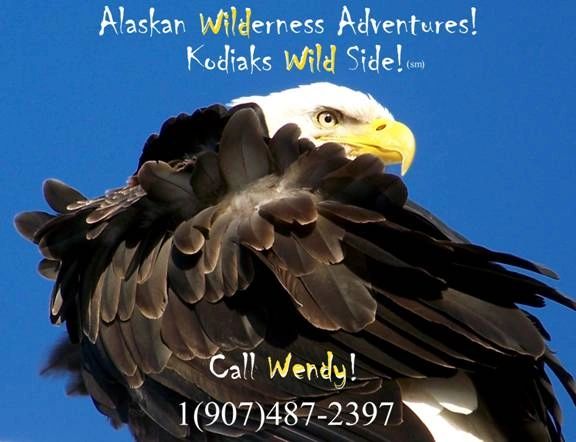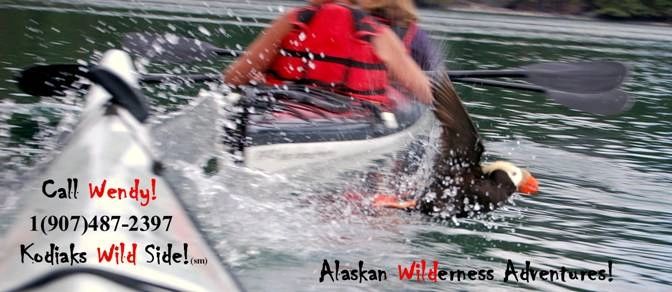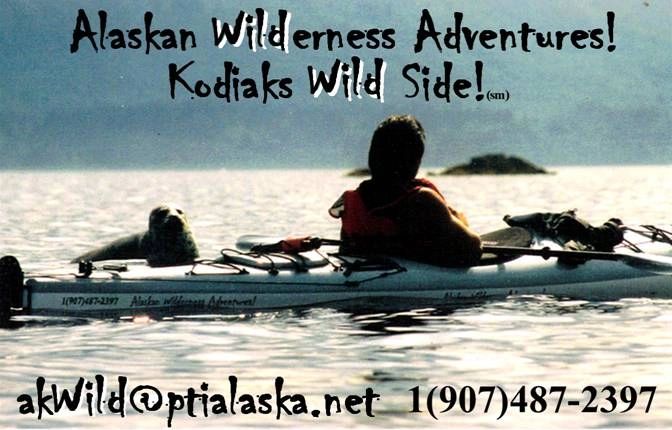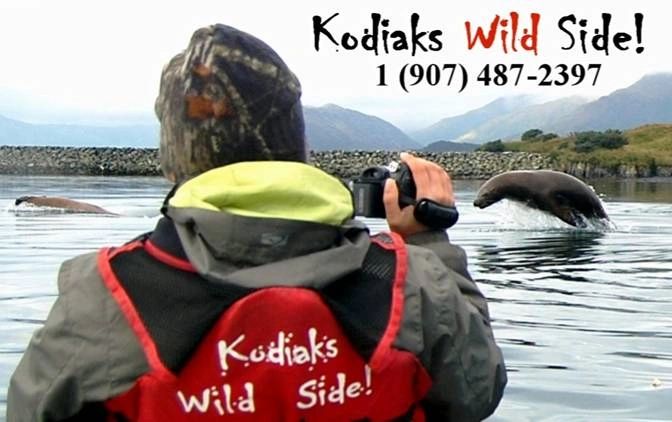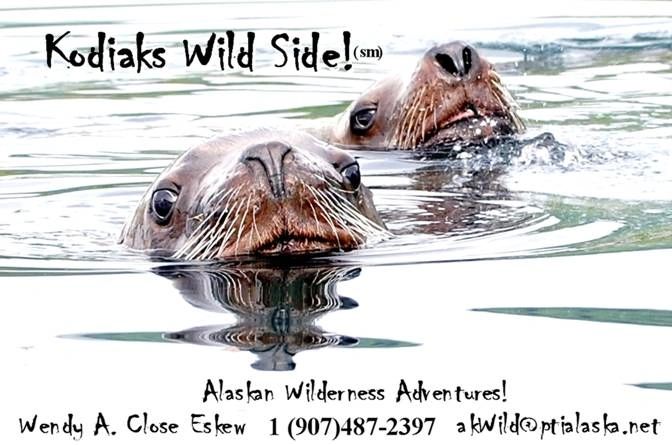 Mayflower Beach has a series of protected islands, shielded by a mountain range peninsula.
Great spot to get right next to seal pups! I have over 150 seals on a series of sand bars off Chiniak as well as out in Pashagshack! Puffin rookeries and Bald and Golden Eagles are everywhere! I was able to photograph the progression of 2 baby Bald Eagles from egg on up during the course of the summer… while stopping on islands off Mayflower Beach this year!
Anton Larsen has glass like water. A GREAT place to photograph Sea Otters with there newborn babies!…
and I had 17 days in August alone where we paddled up to within 10 feet of whales in the Anton Larsen area! While paddling from White sands beach to Monks lagoon, we even had a pod of over 75 killer Whales working together to herd salmon into a shallow cove by slapping there tales on the surface water!
Dolphins frequently follow us as we skirt the shores, as we easily cover 30 miles a day in my Fiberglass Seaward Passat Kayaks!
We frequently photograph bears on the beach during low tides! And we ALWAYS have at least 3 salmon every year, skip across the water and actually jump ONTO somebody's spray skirt! Even got it on film this year! We are equipped with a Everio digital removable hard drive camcorder at all times! And I can generally get YOU on film within a few yards of whales when we are right in the middle of them!
On calm wind days (15 mph or less) we can go virtually ANYWHERE we want, or as far as we want!
I have a couple places where we can get up on a batch of over 200 sea lions lounging around on the rocks! Full Day Trips are reserved exclusively, on a first come first serve basis. Advance notification is suggested due to Kodiaks weather. Once I KNOW you are here on Kodiak, and how long you have till you leave... I can usually "arranging" a bright sunny calm kayaking day for you! I do not take people out if it is rough out. I am a wildlife photographer first and for most!
I have dry bags attached to the deck rigging in front of each hatch for all passengers, easily accessible, to help protect your digital cameras and binoculars.
I can take out a maximum of 12 passengers… but prefer scheduling smaller groups… If I have a family of 4 or 5 traveling together, I try to arrange for your group having the day all to yourselves! I place no time restraint on full day trips. If we are having fun… and the critters are thick (and weather permitting!)… we can stay out as long as you like! If I am taking a family with kids out, we frequently stop on the beach to look for octopus and other inter tidal organisms! We will be paddling at YOUR pace! We can stop and take breaks to stretch your legs whenever you want, or need to! Occasionally I have hard-core athletes who want to see how many miles they can cover in a day, which is always entertaining... We can do that too, if you like! My kayaks can easily cover 15-30 miles in a day, even with beginner kayakers! You need not know HOW to kayak to participate! My kayaks are very easily maneuverable even with one paddler, so even great grandma can tag along, and be the designated photographer (and get the chauffeured tour!)
Each destination has different sea mammals concentrated to different areas..
. Sea Otters, Porpoise, Whales, Puffins, Bald & Golden Eagles, Fox, Deer, Beaver, Musk Rat, Land Otter, Snowshoe Hair, Bears, Buffalo, Elk, Seals, Sea Lions, Oystercatchers etc. SO… No matter WHERE we go kayaking… you are likely to have up close wildlife viewing opportunities! You may even want to reserve two days, in order to ensure being able to explore different areas while you are here! Destinations are chosen based on the tides, wind direction/speed, and previous animal sightings from the day before! If we had Blue Whales yesterday! We WILL more than likely get you out there right next to them again TODAY! :)
I frequently take photographs of passengers WITH wildlife while we are out on the water,
and I will have you sign a photo waiver, in order to use them as advertisements for my business prior to departure. As a curtsey, I WILL burn a disc for you, (of the pictures I have of YOU with kayaking with different animals!) BUT… It will be YOUR responsibility to pick up your disc within a day or two… or you take the chance of someone else grabbing YOUR disc instead of there's! As a wildlife photographer, at the end of each day, I save only the good ones of you, pull them into a dated file, burn you a disc, and THEN pull each picture into a sub file. Once THAT is completed, I would need the exact date of your trip AND what kind of animal I photographed you with, In order to retrieve any of the pictures of you later on! & I'm way too busy during the summer months to keep track of WHO was in WHAT picture! My files are immense! If I have pictures of kayaking WITH killer whales, those pictures will be filed in the "kayaking with killer whales" file! … If you had a sea otter climb up on the deck of your boat, you will be in the "kayaking with Sea Otters" File! I rarely check e-mails or have time to upload pictures onto e-mails during the summer months. So if you want MY pictures of you with animals, MAKE SURE you retrieve them BEFORE you leave the Island!
If you would like to spend the night out under the stars, kayak camping, exploring more remote destinations!
That too can be prearranged! ALL emergency gear, food, and camping equipment is provided! By land or by sea, we provide fully outfitted, guided Sea Kayaking and Mountain Climbing Adventures! Photograph Sea Lions! Seals! Sea Otters! Puffins! Auklets! Arctic Terns! Eagles! Whales! Kodiak Brown Bears! Mt Goat! Fox! Deer! Beaver! Land Otter! Ptarmigan! Snowshoe Hare! Ermine! Buffalo! Elk! …and even Yaks! Windy days are preferred mountain climbing days! NO BUGS! :) On overnight backcountry back packing/camping expeditions, you will have the choice of camping out under the stars, OR returning each night to small cabin accommodations (Each with a real honest to god, full size "grandma" feather bed, down comforters & down pillows!) Advance notice and 100% pre payment is required to reserve specific dates for extended overnight trips.
Contact Wendy A. Close Eskew, Alaskan Wilderness Adventures (Kodiak's Wild Side!sm)
for more information on our Wild Photo Safaris! Weather it be by land or by sea, I guarantee you will experience Kodiaks Wild Side! Sea Kayaking! Mountain Climbing! Personalized Professional Wildlife Photography Trips!
Wendy A. Close Eskew
1(907) 487-2397
12372 South Russian Creek Road
Kodiak, Alaska 99615
akwild@ptialaska.net